The Decomo SA company, located in Mouscron near the French border in southern Belgium, produces precast elements in architectural concrete. People are and will be thedecisive factor in the design and manufacture of architectural concrete. At Decomo they are supported by an efficient production apparatus that is constantly optimised through new investments. After most recently optimizing the fabrication  modernisation of the complete concrete production now stood on the agenda.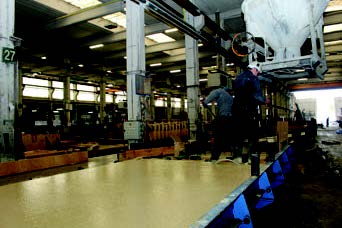 The result is a new mixing plant with 34 silos for an extensive selection of aggregates and a cone mixer as the centre piece of the new concrete production. The complete dosing and mixing technology was supplied by Kniele GmbH in Germany. Decomo was once again able to increase the concrete quality with this investment, thereby meeting its own very high standards. And the high number of aggregate silos in itself suggests the very high company standards that must be fulfilled here. The Bikotronic firm from Germany was responsible for the complete plant control system.
Article in CPI – Concrete Plant International – 4 | 2018
1804_kniele_en.pdf
Adobe Acrobat Document
3.9 MB
Read the full story after downloading the CPI-article.